Jewelry made from the marble used in the chapel at the Academy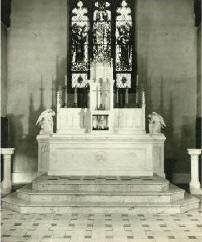 This picture was taken from slides on a power point compiled by Sr. Carol Marie Wildt. Portions of the altar are currently at St. Peter's Cathedral in downtown Belleville. To see the Altar to the Blessed Virgin Mother and the stained glass window in back of the altar, as it looks today, see the photos at the end of the page.

"Here is another picture, the chapel, with its white alabaster walls, communion rail and altar of shining turrets. The sun behind the fine stained glass windows splashes color onto the pews where we kneel in reflective repose. The colors move ever so slowly like the tide washing over us in pools of azure, gold, velvety purple, and garnet red - its color bathing our folded hands reminding us of our budding womanhood."
There was a lot of marble used in our chapel. As you can see there were pedestals, statuary, and steps and flooring that seem to made of marble. There were also, according to my recollection, a marble altar rail and marble sills under the stained glass windows.

Several years ago Les (Mike) Berkel of Belleville made some jewelry from the marble at the request of a class reunion. He's held on to the rest of the marble that he polished into stones. He would like to tell our alumnae about these pieces to see if there is any interest in purchasing them. Since I'm in contact with several alumnae from many classes, I said that I would put it on my website and on Facebook for those interested in buying them.

I am selling them at cost plus a dollar for shipping. I averaged the cost of the pieces at $5.00 each. It should be noted that the metal used in the jewelry is not real gold or silver but gold-tone and silver-tone. Below is a picture of some of the items. I have many, many necklaces. So, please buy as many as you like - sisters, cousins, reunion gifts and. of course, for yourself.


Above is a sampling of what I have. From the top:

an 18", light weight, silver-tone necklace with a medium, single drop stone. (also in longer chains)
an 18", light-weight, gold-tone necklace with a medium, single drop stone. (also in longer chains)
a small silver key chain with drop stone only (no more caged stones)

General information:

Stones: The stones vary in size and color. The small stones are about 1/4", the medium stones - 1/2" and the larger stones close to an inch. The colors vary from white to whitish-gray - some with seams of gray.

The chains (gold-tone and silver-tone) come in 18"/ gold tone in 24"/ silver-tone in 30". They also vary in weight but are mainly light and medium weight chains. The stones on the necklaces vary from medium to large. Most stones could be transferred to one's own jewelry, if so desired. There are a lot of necklaces.

Key chains are small, silver chains - with medium drop stones..

Bags of Stones: Many people love to have stones. There are several bags of loose stones for sale. They would be suitable for display, art projects, or making one's own jewelry. Bags are also $5, but have different weight stones and a different number of stones in each bag. The larger stones - usually between 3-5/bag and the little stones have 20 or more per bag.

Price: To make this easy I averaged the cost of all the pieces to $5.00 plus $1.00 shipping and handling. However, the key chains were much less, so I'm selling them 2 for $5.00

I am also selling Lourdes Holy Cards with a small marble stone attached to it and a message about
AND on the back. Click here to View the Lourdes Holy Card. (sorry, all out)

I think I covered everything, but if you have any questions, don't hesitate to write me - markinsella19 (@) hotmail.com or call me at 618/397-1377.

PLEASE CLICK HERE FOR A LINK TO A ORDER FORM
The photos were taken from the following link: A thorough photographic tour of the cathedral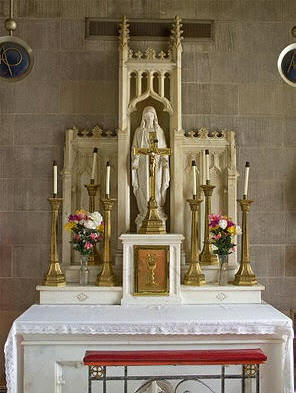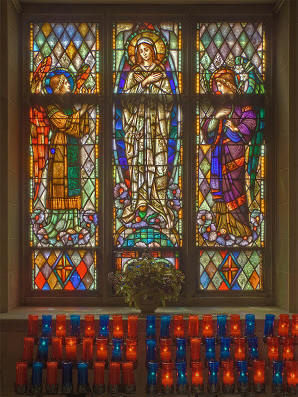 This is one of the side altars that bookcased the main altar. The stained glass that was behind the altar is now off to a side wall. It looks very much the way I remember it - beautiful!!

Photos courtesy of Mark Scott Abeln