Cliffs of Moher and Castle
O'Brien's Tower

Memorial to Cornelius O'Brien
Distant relative to Brian Boru- (well-known king of Ireland) for his contributions to the Cliffs of Moher history.
---
St. Brigid's Well
http://irelandsholywells.blogspot.com/2014/01/saint-brigids-well-liscannor-county.html
---
Killorglin town

Poetry quotes river and bridge

---
Our Cottage

---
Cliffs of Moher
One of the great things about NOT reading too much before the trip is...there are surprises around every corner - or cliff. The Cliffs of Moher were something out of a romance novel. Blue sky with even bluer water, dark foreboding cliffs with waves crashing on shore, and, if that's not enough - a castle tower outlook that stood sentinel on a precipice. We were delighted to find the O'Brien name. It is called "The O'Brien Tower. In the 1800s, Cornelius O'Brien, an earl, had it built . http://www.cliffsofmoher.ie/about-the-cliffs/obriens-tower

I wanted Larry (who's mom was an O'Brien) to walk to the top of the tower. But, alas, when he got there, it was closed! Ah, Jesus, Mary, and Joseph and all the saints of Ireland! So, I took a far-away pic of him in the doorway. After many pix, we made a quick tour of the gift shop and mounted our steed, I mean coach, for our nest stop,
For more information: https://en.wikipedia.org/wiki/Cliffs_of_Moher
---
After traveling up and over and around the top of the cliff, my legs were beginning to throb. When we came to St. Brigid's well... wellllll, I begged off. This is one that I wish I would have seen. The story of Brigid starts in Celtic lore and was adopted by Christianity. Unlike the well on at Dun Aengus, this one is well cared for and beautiful. But, all I have are Larry's pictures.
---
And now for Bunratty Castle!! Not only is the castle restored to medieval times, but there is a folk village surrounding it to show how the common-folk lived. It was another BIG surprise to discover that this was the castle of Brian Boru 941 - 1014 AD- an important king in Irish history - notice the 3 lions in his crest!. His sons were named (yes, wait for it...) O'Brien, ('o meaning "son of" in Ireland.) For an interesting, historical read...
https://en.wikipedia.org/wiki/Brian_Boru
Could this mighty king be a loooong ago ancestor of Larry's mom's family? I guess we'll never know, but it was great to see King Lawrence take his rightful place at the royal throne behind the main table.
In the Great Hall, there were woodcarvings, stained glass windows, tapestries, statues, oils on the walls, A huge dining table and carved chairs, and a spit in the middle of the floor - ready to turn a wild boar!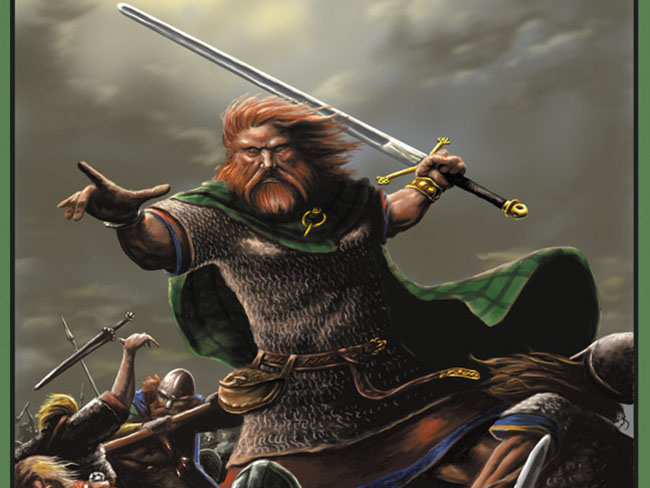 If you squint your eyes and look sideways you can see a bit of Lawrence in this painting of Brian Boru - Maybe it's just that look he gets, when he realizes we are out of milk. Side note - Larry never had red hair - but our son, Brian -had full head of, wild, red hair and a full red beard (after he lost is hair). A coincidence? I think not! My son - King of Ireland!
---
After this long, wondrous day, we drug ourselves back onto our carriage which took us to Killorglin where we stayed in cottages for 4 nights. Visions of little log cabins nestled in the woods with outhouses danced in our heads. What a lovely surprise! The cottages were roomy, modern duplexes. The bedrooms had their own bathroom and king-sized bed. The kitchen was modern - where we, and two others, joined us making breakfasts and snacks. The back deck was full of gushing flowers while the Shannon River below roared by. Larry spotted an otter in the water and many other birds and flowers on his walks to the surrounding woods. At one end of the river was a rock bridge that led to the colorful town of Killorglin. It was a great little town. I mean, what's not to like a place that has an ancient, yearly King Puck Festival. Baaaaa'd news - it was held the week before we got there.
The reason why we stayed here four days was to take our time enjoying the wonders of The Ring of Kerry. We thought it was a prehistoric site, but it is a huge area around the southwestern coast. Each day we came back "home" to our sweet Killorglin cottages.
---
Irish Trivia
Why so many "Kil" or "Kill" names in Ireland? Meaning of "Kil" This is a religious one. In Irish Gaelic, "cill" means a (small) church. On a roadsign, above Kildare you'll see written Cill Dara, which means "the church of Dara".May 11, 2011
Bunratty Castle, Brian Boru
King of Ireland
The Keepers of the Buratty Gate
---
The Great Hall

---
Kitchen, Altar, Bedroom and other rooms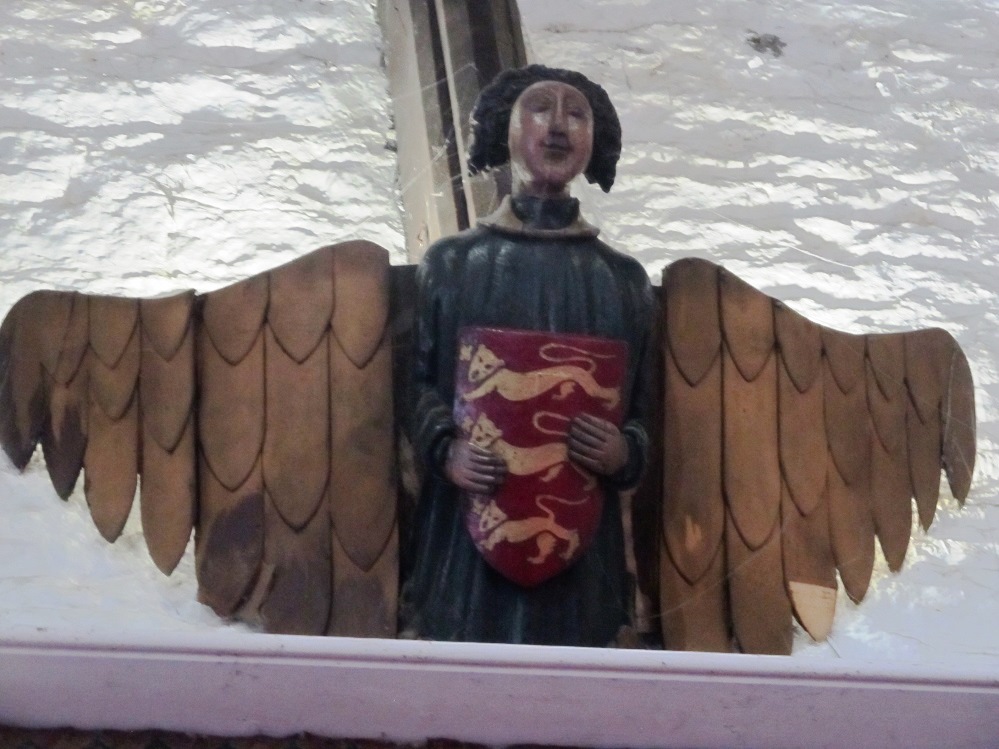 ---
Outside castle
---
For more info on Bunratty Castle:
https://en.wikipedia.org/wiki/Bunratty_Castle
---
Click Here to see our adventures on:
Days 7 - DINGLE DAY!! - Come along as we visit ancient forts, beehive huts and take a boat from Dingle Harbor to see Fergie the famous dolphin. Lots of good eatin' along the way.
Day 8 was a day off to regroup while some went horseback riding.
---