Angelology
by
Marilyn Kinsella
Angels appear throughout our history in art and literature and in most all religions. It is up to you as storyteller to find and research as much about angels as possible. One word of warning - the deeper you delve the more complex "angelology" becomes. The following is for those who wish tell stories about angels. I do not proclaim to have any expertise in the matter of angels. But I do enjoy hearing and telling angel stories.

Stories with or about angels come in at least three main forms:
1. CHARACTER PART:
The story is not about the angel, but an angel has a significant role:
| | |
| --- | --- |
| | "Once a Good Man" from Jane Yolen's The Hundredth Dove |
| | |
| --- | --- |
| | "The Littlest Angel" by Tazwell |
| | "The Littlest Angel Meets the Newest Angel" by R. Kidd |
| | "This Little Light of Mine" by Marilyn Kinsella based on an old folktale |
2. CREATION STORIES:
No evil shall befall you, nor shall affliction come near your tent, for to His Angels God has given command about you, that they guard you in all your ways. Upon their hands they will bear you up, lest you dash your foot against a stone.
Psalm 91: 10-12

Almost all religions refer to the creation of angels and their role in the universe. These stories are entwined with the mythology of stories often borrowed from previous cultures. Telling these stories takes at least a working knowledge of the culture from which the story was told. This all makes the study of angels an endless wonder. See A Dictionary of Angels.
3. ANGEL EXPERIENCES:
Don't forget to be kind to strangers. For some who have done this have entertained angels without realizing it.
- Hebrews 13:2

Learning how angels have interacted with others lives is the most compelling stories of all. I was inspired to tell my Angel of God story after reading Sophie Burnham's book "The Book of Angels". It is nothing less than phenomenal to see how people will open up when stories of angels are told. So many people were afraid that their experiences would make them look strange that they never had the courage to tell. Even Sophie Burnham would agree. After the success of her first book, so many people wrote to her telling of their experiences that she wrote another book "Angel Letters". I highly recommend both books. They don't delve too deeply, but give you a nice overall look at the study of angels with compelling little anecdotal stories.
http://www.angels-online.com/index.html
My mother became intrigued with Angel stories and wrote an article to Belleville Diocese's newspaper - The Messenger. One of her stories literally hit home, because it was a story about me. I include that story in my angel story. Click on Angel of God to read the story.

My personal concept of an angel is one that was instilled as part of Catholic education through the "Baltimore Catechism." "An angel is a spirit without body, processing understanding and free will."
http://www.newadvent.org/cathen/01476d.htm
http://www.catholic.org/saints/angel.php

Angel Bibliography:
Angels, an Endangered Species by Malcolm Godwin, Simon and Schuster, 1990. An indepth and scholarly look at angels from various religions. Many beautiful colored plates of angels in art.

A Book of Angels and Angel Letters by Sophie Burnham, Ballantine Books, 1990.

Angels: God's Secret Agents by Billy Graham, Doubleday and Co., 1975. A biblical perspective of angels and how they affect our lives

The Angels and Us by Mortimer F. Adler, McMillan, 1982.

A Dictionary of Angels by Gustav Davidson, Collier-MacMillan, 1967.

Touched By Angels by Eileen Elias Freeman, 1993. (as of 11/3/93 it was not in the library systems)

Breath of God: A Book About Angels, Demons.., 1971

Invisible Helpers by C.W. Leadbeater, 1922.

When Angels Appear by Hope MacDonald, 1982.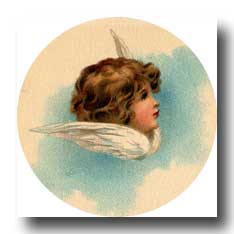 The Angels, Demons and People by Kenneth Reeves, 1979.
Know Your Angels: the Angel Almanac, 1979.

A Book of Angels by Marigold Hunt, 2004
Web Sites:
| | |
| --- | --- |
| | |
| | Saints Alive - My handout on telling saint stories |
| | |
| | |
There are many, many books written on the subject of angels. If this list doesn't keep you busy, you can visit the 235.3, 246 or 291.215 section of your library to find more. A quick search in Google under "angels" will also bring up a lot of information.