---
We said our goodbyes to the lovely Kilkenny and started off on the final day of our Irish tour. We saw so many wondrous sites...but not what we were hoping to find. Ah, maybe it wasn't to be. Afterall, we did find a poem by Thomas Kinsella on a hotel wall and Larry did find a short entry on the Kinsella name in a curio shop. But, we were looking for something a bit more tangible - The Holy Grail.
---

The Titanic Museum
http://www.titanicexperiencecobh.ie/what-to-expect/
Although we did not find the Kinsella name in the lists they supplied, there was an L. Kinsella who unfortunately was aboard:
http://www.encyclopedia-titanica.org/titanic-victim/louis-kinsella.html
---
Our last night in a hotel and an evening of fun
Taylor's - the largest thatch roof with dining area.
---
Such a great way to celebrate our last night in the historic pub Taylor's Three Night

"Taylors Three Night involves a rip roaring evening of traditional Irish song and dance accompanied by a great selection of quality Irish food to delight your palate. Our resident band and traditional Irish Dancers provide breathtaking performances for their audience and never fail to entertain."
Besides the Irish dancers there was a stunningly beautiful woman who played the harp, an old-style comedian who was fun, and a singer who belted out a song he sang in Les Miserable. He was - UNBELIEVEABLE. Found out that he was chosen to play this part in London.

"Glendalough (Gleann Dá Loch, "Valley of the Two Lakes") is a fascinating monastic settlement in a spectacular natural setting just an hour south of Dublin. The monastery was founded by St. Kevin, a hermit monk who died about 618 AD. The extensive ruins of Glendalough include several early churches, a graceful round tower, and various sites associated with the life of St. Kevin.




History of Glendalough

The story of Glendalough begins with St. Kevin (Irish: Coemhghein), a descendent of one of the ruling families of Leinster. As a boy he studied under three holy men (Eoghan, Lochan and Eanna) and as a young man he went to live at Glendalough "in the hollow of a tree."

He returned later with a small group of followers. After a life of sleeping on stones, wearing animal skins, barely eating and (according to legend) making friends with birds and animals, Kevin died in about 618.

Glendalough flourished for the next 600 years, with the deaths of abbots and various raids featuring heavily in the Irish Annals. By the 9th century, it rivaled Clonmacnoise as the leading monastic city of Ireland.

In its heyday, the settlement included not only churches and monastic cells but also workshops, guesthouses, an infirmary, farm buildings and houses. Most of the buildings that survive today date from the 10th through 12th centuries."
---
The Holy Grail
And here it is...tucked away in this ancient cemetery - a tombstone with "Kinsale" on it. This is a variant of the Kinsella name. We took it a good omen that our final stop in Glendalough - at the end of the tour - was our Holy Grail.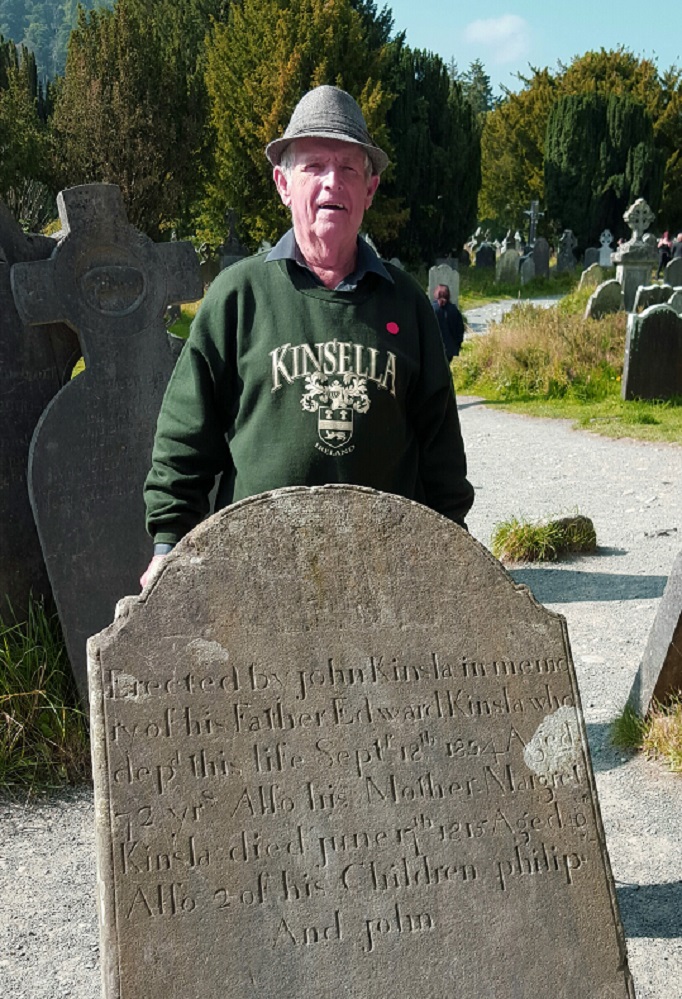 ...Edward Kinsla departed September 1804...wife Mother Margaret Mary June 1815 and two sons - Phillip and John.


Museum at Glendalough
---
The Cemetery and Round Tower
---
St Kevin's Church

St. Kevin's Church is a stone roofed building with a distinctive round belfry with conical cap at the west end. The church originally consisted of a simple nave with an entrance at the west end and a small round-headed window in the east gable. A chancel (now missing) and sacristy were added later.





The steep roof, formed of overlapping stones, is supported by a semi-circular vault. The church had a wooden upper floor and there was access to the roof chamber through a rectangular opening towards the western end of the vault.

Across the path are the foundations of St. Kieran's Church, excavated in 1875. The church has a nave and chancel and probably commemorates St. Kieran, the founder of Clonmacnoise – a monastic settlement to the northwest that had associations with Glendalough in the 10th century.
---
Day 16
The longest afternoon of my entire life! We boarded our Aer Lingus plane about 11:00 am and arrived in Chicago at 2:00 pm. Now, how did that happen! Oh, yes...the time changes. Now we were racing with the sun get to Chicago. Actually, we were on board for something like 9 hours - ergo the longest afternoon of my life!
Larry's good buddy was waiting for us when we arrived. Since it was 2 PM we thought - why not just go home! What's another 5 hours of travel. So, we got in our car and took off for home sweet home. Our bed was a sweet night of Irish dreams.
Goodnight Ireland. May the Good Lord Continue to Bless you and Keep you in the Palm of His Hand.